IC3 Digital Literacy
- Program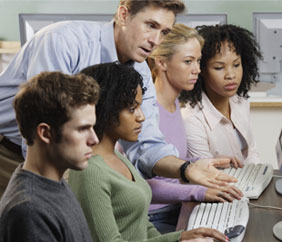 The IC3 is short for Internet Computing Core Certification. IC3 helps you learn and demonstrate Internet and digital literacy through a worldwide industry standard. To become IC3 certified, you must pass the following three exams.
Computing Fundamentals: Computer Hardware/ Computer Software/ Using an Operating System
Key Applications: Common Program Functions/ Word Processing Functions/ Spreadsheet Functions Presentation Software Functions
Living Online: Networks and the Internet/ Electronic Mail/ Using the Internet/ The Impact of Computing and the Internet on Society.
This certification is included in the NEW JERSEY INDUSTRY-VALUED CREDENTIAL LIST
What does IC3 stand for?
IC3 stands for Internet and Computing Core Certification. It is the first globally accepted, standards-based, validated certification program for basic computing skills and is often the first certification individuals pursue to show competence in computer skills. Becoming IC3 certified demonstrates that you possess the knowledge required for the essential use of computer hardware, software, and the Internet.
Who are the prime candidates for IC3 program?
IC3 is the ideal starting point for anyone interested in learning computer and Internet basics. The program gives individuals sufficient Internet and computing literacy skills to enter current job markets or begin higher education programs. Following are prime candidates for IC3:
• Government Employees
• Office Assistants
• School students
• Students in vocational training
• Technical college students
• Continuing education students
• Job seekers
• Employees seeking professional development
• Teachers
• Employers looking to validate skills
• Everyone seeking to gain a working knowledge of computers and the Internet
Can anyone get IC3 certified?
Yes, everyone knows that computers and the Internet are pervasive in today's digital world. As a result, almost anyone, young to old, could benefit from being IC3 certified.
Why is IC3 needed?
Computers are a part of nearly every academic discipline and almost every job. In fact, in both academia and the workplace, basic skills in computer and Internet use are considered prerequisites to acceptance or employment. As a result, the need for a standard for measuring basic computer literacy has become increasingly apparent. IC3 addresses this market need by delivering a global certification as validation for these computing credentials.
What are the benefits of IC3?
IC3 provides core skills and knowledge necessary to use some computer applications and the Internet. This Certificate gives a resume-building standard certification as proof of successful completion of the program. It also provides the foundation necessary to further enhance productivity and marketability with other desktop application-specific certifications. It gives individuals confidence and security in being part of today's "digital world" and it's recognized by ACE's College Credit
Workforce Advantage is now offering this course with the approval of the Department of Labor and the Department of Education. We are an Official Testing Center along with Certiport, where participants can conveniently take their certification exams.
We hope to continue serving our clients, now with many more productive program options, keeping pace with the demands of today's technology-driven world.
Pre-Registración
Pre-Register Now
WorkForce Advantage Programs