Microsoft Office Specialist
- Program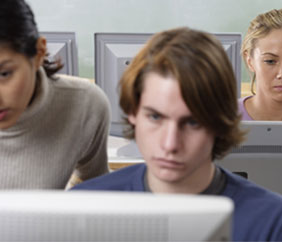 This is an exciting time to get certified as a Microsoft Office Specialist. Our certification paths reflect today's cloud-focused jobs, helping you to get hired, get ahead, be productive faster, and to receive the recognition you deserve.
Why get certified? Certifications give you a professional edge by providing globally recognized industry endorsed evidence of skills mastery, demonstrating your abilities and willingness to embrace new technologies. Verify your skills and unlock your opportunities.
Microsoft Certified Professionals spend less time interviewing and more time driving value. Adding a Microsoft certification to your resume helps you stand out and get hired—faster. What's more, certified new hires are fully productive an entire month sooner than their uncertified peers, making your skills clearly stand out. As a Microsoft Certified Professional, you'll make an immediate impact, helping you get noticed and move forward quickly in your career. Compared to their peers, Microsoft certified developers are 90% more productive and nearly 60% more efficient. This means that they make nearly twice as many applications per year and in half the time per application.
And when you've been certified, you can share your achievements in a way that's trusted and verifiable with your Microsoft badge! Your Microsoft badge empowers you to share your certification online with your professional network, find the employers that are looking for candidates like you, discover your salary potential, and easily apply for jobs.
We offer the Microsoft Specialist Certification (MOS) in Word, Excel, PowerPoint, and Outlook. Our clients can share their certification with educators, employers, colleagues, and classmates through digital transcripts. This helps to show that the individual has an essential understanding of computers, networks, and the Internet. IC3/ MOS distinguish people with global credentials. This powerful tool allows one to e-mail the certification worldwide, proving that they have the technical expertise that leading companies require, and this will help them stand out from others.
Upon earning a certification, 23% of Microsoft certified technologists reported receiving up to a 20% salary increase. What's more, certified employees are often entrusted with supervising their peers—putting them on the fast track for a promotion. When you pass a Microsoft Certification exam, you'll have access to your Microsoft Badge; share your certification online with your professional network and unlock your salary potential.
Workforce Advantage is now offering these courses with the approval of the Department of Labor and the Department of Education. We are an Official Testing Center along with Certiport, where participants can conveniently take their certification exams.
We hope to continue serving your clients, now with many more productive program options, keeping pace with the demands of today's technology-driven world.
Pre-Registración
Pre-Register Now
WorkForce Advantage Programs