Occupational ESL (English as a second Language)
- Program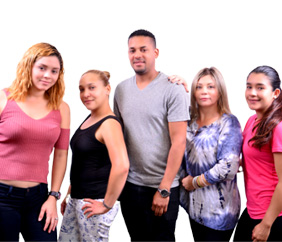 The goal of the ESL program is to assist the participant to become "work-ready" by achieving the academic/educational progress that is, the essential, English Communication skills, including reading and writing, as well as employability skills- that will support their ability to fully utilize vocational/occupational training services to achieve social and economic self-sufficiency. The participants will be able to gain, advance and retain employment or enter occupational or higher levels of training.
Students are able to enter the most appropriate level of ESL instruction - Beginner, Intermediate and Advanced. ESL instruction is taught using the "Silent Way" approach, which instructs the teacher to use silence and a series of specialized instructional tools as a technique to encourage students to generate language autonomously. There is no use of the native language. The students spend all classroom time developing and using their communicative language skills. Because of their active participation in the learning process, they rapidly develop language awareness and facility of expression (oral and written).
Workforce Advantage's ESL curricula that has been approved by the State of New Jersey Department of Education and Labor and are based on College & Careers Readiness Standards. CCRS standards, adopted by the State Employment and Training Commission and the State Council on Adult Literacy define the capabilities needed for adults to "carry out their roles and responsibilities as workers, parents and family members, citizens, and community members". In addition, financial management concepts are reviewed including personal budgeting, credit management, debt consolidation, opening/maintaining a checking/savings account and the use of both the federal and NJ EITC.
All classroom instruction is "contextualized". Occupational and Employability skills are integrated in our curriculum from the beginning so that from the earliest levels of instruction, participants develop their educational skills within job-related and life-skill related contexts. It incorporates personal aptitudes, value systems, career exploration; employability skills, such as, job search strategies, resume writing, job interviewing techniques; and job maintenance skills, such as, cultural diversity, conflict resolution, corporate cultures, Team building, time management, dealing with authority, etc. Workforce Advantage uses a tutorial approach that provides individualized attention, allowing for open entry open exit while students are able to enter the most appropriate level of ESL instruction.
All our workbook exercises were digitized and incorporated in Quizlet. This is an app that students can access at anytime, anywhere from their cell phone and practice exercises while playing different games. Needless to say, students love it!
Our Project Success series is a standards-based media-rich hybrid course, which develops creative and critical thinking skills, promotes self-directed learning, and improves student's ability to communicate in social, educational and professional situations. It empowers learners with the academic and workforce skills they need to get ahead by helping them transition to further education or career training. MyEnglishLab is the online component that complements Project Success. MyEnglishLab optimizes instruction through a blend of course book and online content. With instant access to a wide range of diagnostic tools, teachers can customize learning environments to meet the needs of every student. Students may also access this site to practice, using any kind of device such as PC, Smartphone, Tablet, etc.
Minimum Enrollment Qualifications:
None
Pre-Registración
Pre-Register Now
WorkForce Advantage Programs